Have you ever been to an antique market?
You can only participate in the auction if you have an antique dealer's permit, so you may not get a chance to…
It is a very enjoyable space. There are many people who seem to have all sorts of quirks, and it is interesting to observe people.
The secondhand market is recommended.
So, let's consider whether you can make a profit on what you purchase in the secondhand market.
In fact, there are things that can be profitable.
Here is one of them.
I did not buy this item by accident, it just happened to be one of those.
Old maps that I happened to purchase at the antique market.
At the market, things are sold in the form of an auction.
I also purchased a pile of pottery with my intention. Among them is something I don't remember buying.
That is the old map shown here.
Where is this map?
Actually, the map is 90 years old, and at that time, South Sakhalin was Japanese territory. This map is a street map of Tomarikai city that existed in South Sakhalin.
Today it is Russia…
But at that time, it was Japanese territory. This was a detailed description of the town at that time.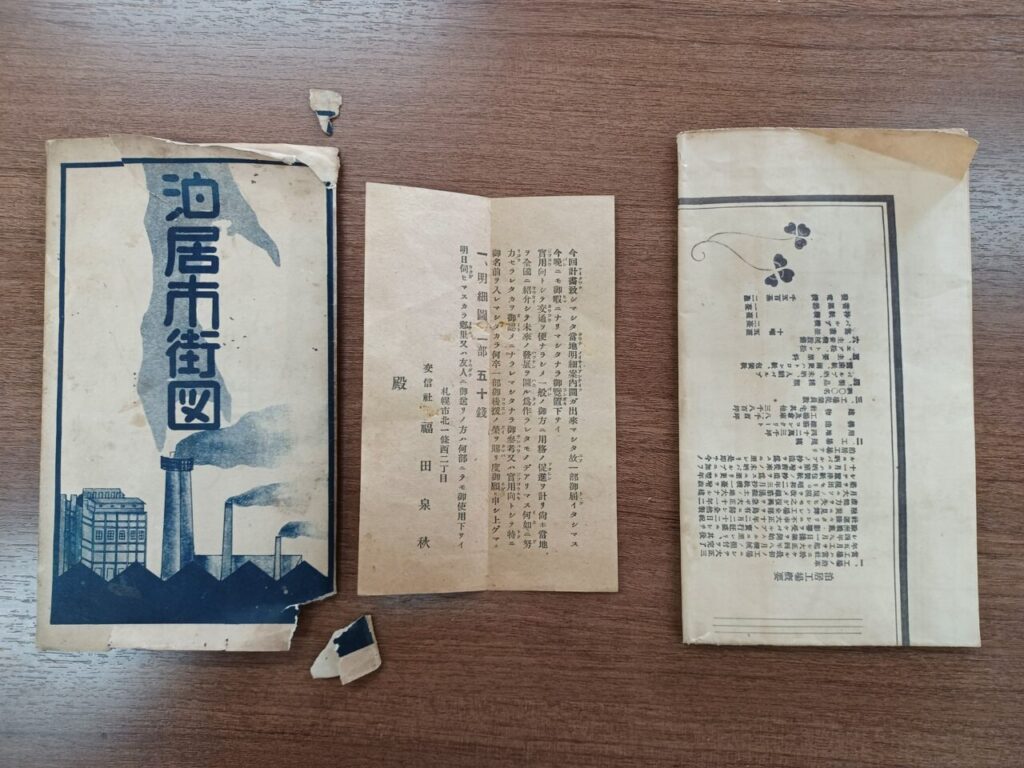 I suddenly wonder. I wonder if this map is actually rare.
So I decided to search for deals online…
However, I cannot find any evidence that it was traded on the Internet. If you want, the only information that comes up when searching for Tomari City Map is from the collection of the International Research Center for Japanese Studies.
I think this may be quite a rarity.
In the meantime, contact a place that does online assessments.
A rare item may possibly be included in the items bought for a pile of money.
This is the charm of the antique market.
I, too, am already a little excited (lol).
In the meantime, you can get an online assessment. It's a big deal in today's world. All you have to do is take a picture using Line and send it to us. That's all you need to do to get an appraisal.
Quickly, send.
Three hours of waiting. More than two and a half hours since the reading…
I'm still waiting excitedly to see if it's a rarity.
And reply.
The replies were…
Thank you for your inquiry.

It's a city map of Sakhalin.
We can purchase it for 5,000 yen if it is considered to be in accordance with the prewar Chinese type.
5,000 yen… (about US $45)
I can't describe how exquisite this is. lol
But the amount of the mountain you buy will be well over the amount of the mountain you buy.
And it is bought by a vendor. The selling price must be much higher.
So, it seems to be worth a lot of money by any means.
I decided not to sell it for now. I felt that looking at this map and thinking about that time is worth more than 5,000 yen. I am not a fan of maps, but even I can feel the romance of this item.
The people who come to the antique market aren't all that savvy.
So, this was a bit of a get-rich-quick story that happened to me as a newbie to the secondhand market.
What can be said from this event?
That is, the people who come to the antique market are professionals, but outside their specialty genre, they are amateurs.
In fact, I was able to bid on two film cameras and three lenses for a very reasonable price.
I guess no one who came at that time was good at film cameras.
I looked at the online transactions and found that they were going for about eight times the price of the winning bid.
Thus, I believe there are opportunities in the antique market.
Why don't you go to the antique market, too?
You can sometimes make money on the secondhand market like this.
But to be honest, I don't know what to say about it because I don't understand it and I don't buy it, lol.
But there is a liveliness and interesting exchange that only an auction market can offer.
I think you'll enjoy it!